The #1 complaint about
MobDisguise
DisguiseCraft is that it doesn't have any visual effect on your
own
character. This is because there's no way for the server to tell your client to change your model...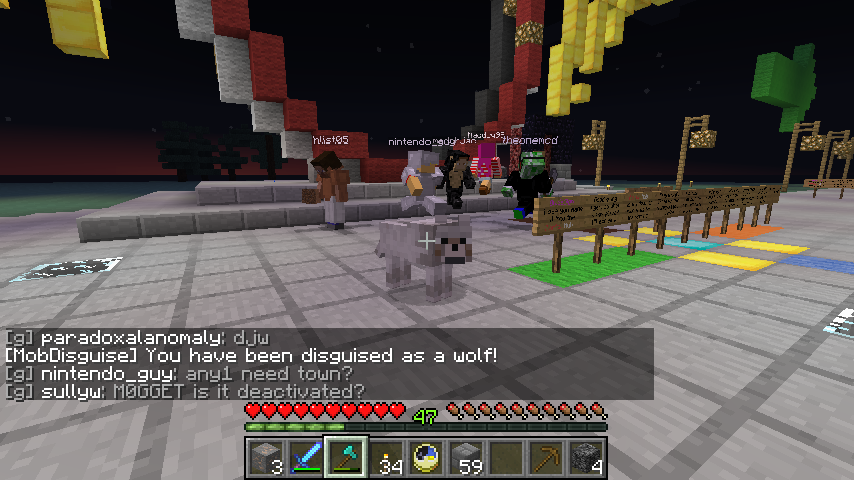 ...but with a little modding magic, anything is possible.
FEATURES
• Changes the renderer for the player model locally, visible in both inventory and third-person.
• Maps player entity properties to a disguised entity to get 1-to-1 animation (or as close to it as possible).
• Changes the viewpoint based on the entity's eye level.
• Includes mob variants supported by DisguiseCraft.
USING CLIENT-SIDE MOBDISGUISE
I haven't looked into pulling mobdisguise data from the server, so for now you have to set the disguises through my interface if you want to get the effect. By default, the Client MD menu is mapped to [ (left bracket), but you can change this in key bindings. Open the menu, select a disguise, and -presto!- it will change your model/texture locally while sending a command to the server to do the same. Once a disguise is selected, the subtypes menu (the bottom button) will populate with all available modifiers.
NOTE: Client-side changes may not reflect what occurs server-side, especially if you are missing permissions.
FEEDBACK
What I need to know:
What mods do you need this to be compatible with?
Are there any pressing bugs that need to be addressed?
CHANGELOG
0.2.3
-Just a quick update to 1.5.2
Spoiler: Older changes
Show
INSTALLATION
Install ModLoader, then standard Optifine, then my mod,
in that order
.
DOWNLOAD
Get ModLoader first!
Get Optifine!
Download MobDisguise Client Mod v0.2.3
If you're having trouble installing, I highly recommend
MCPatcher
.
Spoiler: Terms and Conditions
Show